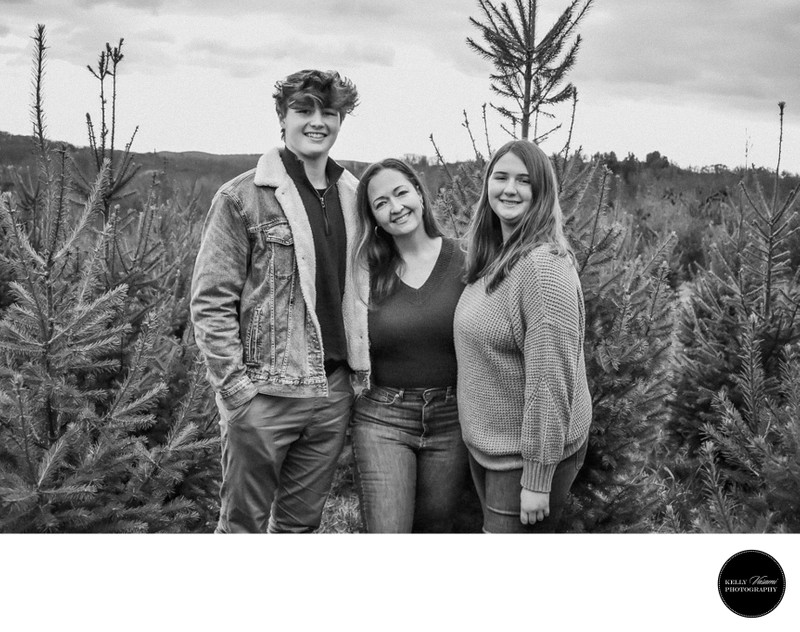 Kelly Vasami and her children, photo by Jillian Anderson Photography
Hello, I'm Kelly Valentine Vasami. Since 2006, I've been the owner and primary photographer at Kelly Vasami Photography LLC. My business is based in Westchester County, New York (a suburb of New York City), and I specialize in family portraits, newborn photos, real estate photography, corporate headshots, event photography, engagement portraits, and intimate wedding celebrations.
I have always enjoyed capturing genuine smiles, true emotions, and preserving memories for my clients. I take an unobtrusive approach to photography, which helps my clients feel comfortable and at ease during our sessions. As a mom, I know how to relate to kids and approach them on their level. My sense of humor is a huge part of my personality, and I use a lot of humor in my work to relate to my clients.
I am able to be somewhat of a chameleon in that I am as comfortable photographing a tiny newborn or shy toddler, as I am a high-profile/celebrity client, as I am in a professional/corporate setting, as well as a wild late-night celebration. I have worked in every imaginable scenario with my camera, and I can easily adapt to changing scenery, lighting conditions, and personalities.
My photography has been seen in TIME Magazine, The New York Times, CNN.com, HuffPost, Essence.com, The Journal News, Style Me Pretty, and on ABC TV's Extreme Home Makeover. The weddings I have photographed for my couples have graced the pages of New York magazine's Wedding issue, Manhattan Bride magazine, and The Westchester Wedding Planner magazine. My clients weddings have been named Wedding of The Month by Westchester Magazine, as well as been featured on Wedding Window/WedLoft blog and The Westchester Wedding Planner blog.
I'm a mom to two sweet and silly teenagers, who keep me busy and have always been more than accommodating when my lens has been pointed at them... since day one! On days when I'm not photographing beautiful people in scenic locations, I can be found cheering on my athletic son as he plays baseball and football, laughing and creating works of art with my funny creative daughter, or cruising around town in my little old two-seater convertible. I love practicing vinyasa yoga, I'm fueled in equal doses by coffee and tacos, and I'm usually listening to podcasts, audiobooks, or any type of music that makes you want to dance. I have a sweet spot for anything vintage (sports cars, old houses, antique cameras). And finally, I think nothing is better than spending time with good friends and laughing until your belly aches!
After 15 wonderful years as a traditional wedding photographer, I made the decision to focus on smaller, more intimate weddings going forward. I cherish (and remember!) every single one of the hundreds of large wedding celebrations I have had the pleasure of capturing over the years, and I look forward to continuing to record the memories of more couples in the future, just on a smaller scale. If you are planning an intimate wedding celebration (50-75 guests max, under 6 hours), please get in touch with me, I would love to chat further about how we can work together. If you are planning a larger, more traditional celebration (8+ hours, full bridal party, ballroom type reception, etc), I would be happy to refer you to one of my wonderful colleagues who could do an amazing job for your traditional wedding.

I've been lucky enough to work with some of the most amazing wedding couples along the way, and their kind words have helped me to win The Knot's Best of Weddings award six times, The Knot Best of Weddings Hall of Fame Award, and Wedding Wire's Couple's Choice Award six times [formerly called The Bride's Choice Award]. But more importantly, the relationships I build with my clients are the cornerstone of my business, and I am delighted when my clients refer me to their friends and family, or hire me again years after their weddings to photograph their expanding family. Some of the best feedback I have received is that the people I photograph all look so joyful and genuine in the photos I take, and I know that is because they are truly enjoying the moments we create together, and trusting me to capture those memories.

I would love you to meet up with you to see if we "click" (pardon the pun!), and have you take a look at some of my sample albums in person, and discuss your vision for your session/event. Let's get started!