Earlier this year, I met an extraordinary family. Jimmy and Darlene Korpai are the parents of a beautiful five year old girl, Hailey, and an adorable one year old boy, Hudson. When Hailey was born, Jimmy and Darlene learned she was born with a growth hormone deficiency known as dwarfism. Jimmy and Darlene were, like most people, not very familiar with the condition. They instantly became advocates for their daughter Hailey, knowing she was growing up in a world that wasn't designed for people her size.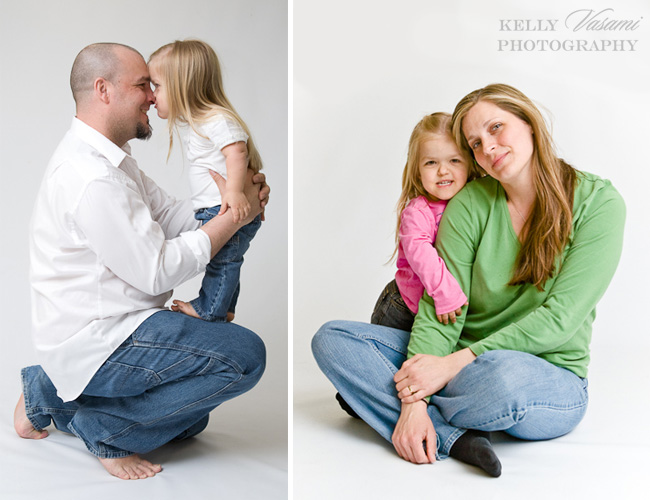 Hailey and other people with dwarfism face challenges every day – not only the challenges of navigating in a world built for average-sized people, but also the stares and insults that can be tossed at someone who is "different". Knowing this, and wanting the best for their daughter, the Korpai's joined Little People of America, where Jimmy now serves as President of the Hudson Valley Chapter, and Darlene serves as Vice President. Jimmy and Darlene created a website, Understanding Dwarfism to educate the public by answering questions and giving a better understanding of the condition.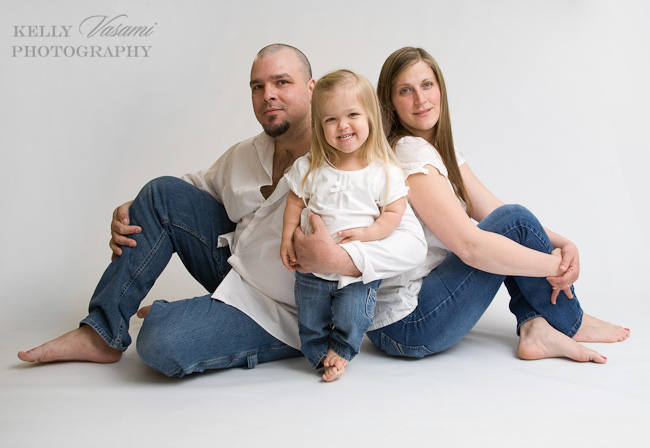 When Jimmy contacted me earlier this year to photograph members of Little People of America to use on their educational website, Understanding Dwarfism, I didn't know much about dwarfism. I had enjoyed watching the TV show Little People Big World, and was fascinated to find out that average sized parents can have children with dwarfism, and that parents who are Little People can give birth to average-sized children. When I travelled to Long Island to the regional event that Little People of America hosted, I was so blessed to be able to meet and photograph so many wonderful families. There were so many different types of families – parents who were LP (little person), children who were AP (average-sized person), and vice-versa, and a mix of both. But one common element? They were some of the nicest, friendliest, most welcoming people I have ever worked with.
Hailey's mom Darlene first explained to Hailey about dwarfism: "There are big flowers, and there are little flowers, but ALL flowers are beautiful." I think that is a message we can all teach to our children.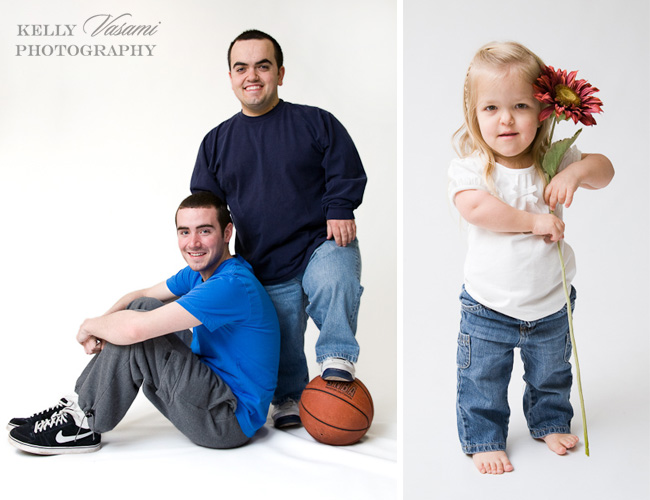 When I found out last month that the Korpai family had been chosen to be featured on Extreme Makeover Home Edition, I was absolutely delighted for them. The episode aired this past Sunday, October 16th on ABC. I watched the episode to cheer on this wonderful family, and was pleasantly surprised when I saw some of my images appear in the show! I've grabbed a few screenshots below, but I think it would be great if you watched the show yourself to learn more about dwarfism, and to see what life is like for a little person living in a world designed for an average sized person. Kudos to ABC for helping to make more people aware of the condition, and educating the public and promoting the Korpai's fantastic website, Understanding Dwarfism.
Here is the Facebook page advertising the Korpai's episode of Extreme Makeover Home Edition. (Somewhere along the way Hudson was photoshopped into my photograph!)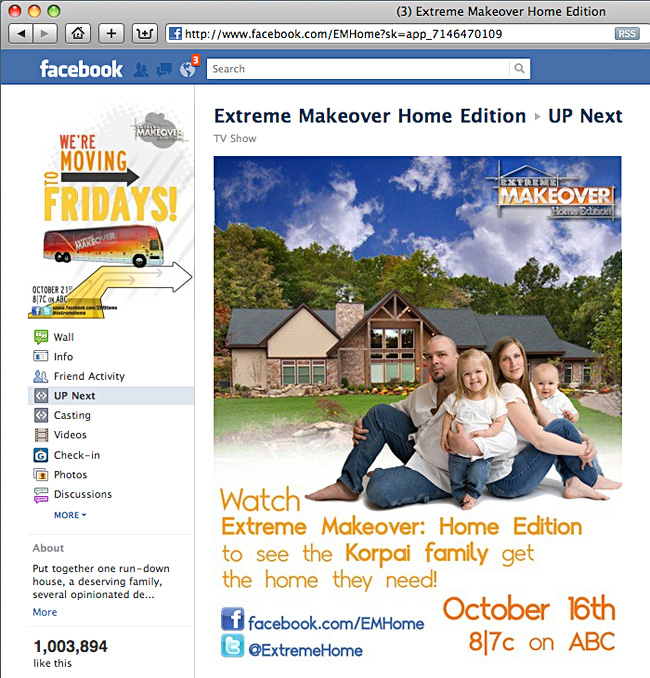 The ABC.com website for Extreme Makeover Home Edition. Click here to watch the episode that aired October 16, 2011 (Korpai family).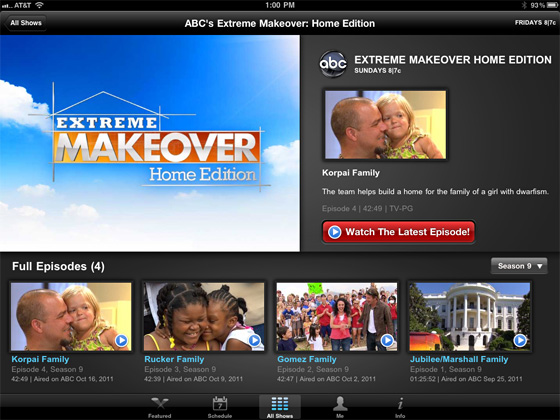 Within the first five minutes of the episode, they showed the Korpai family having an LPA chapter meeting in their home. The Korpai's made tradeshow booth banners with some of the images from our shoot. I jumped off the couch when I saw one of my images right in the middle of my TV screen!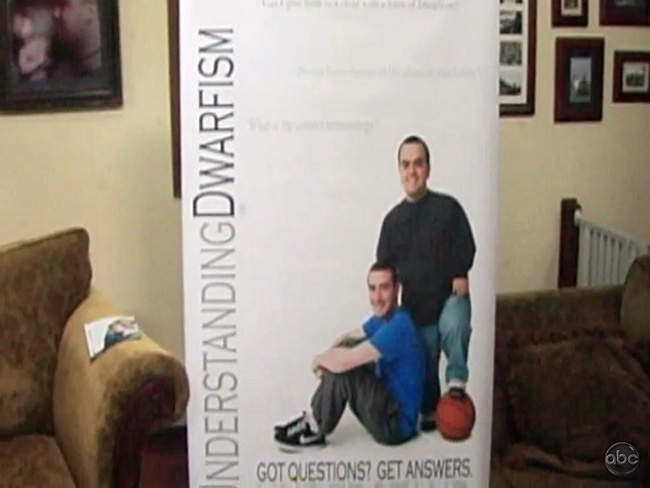 The Korpai family often host meetings for Little People of America's local chapter in their home. (Spoiler alert!) Extreme Makeover Home Edition built the Korpai family a brand new building to use for their LPA meetings!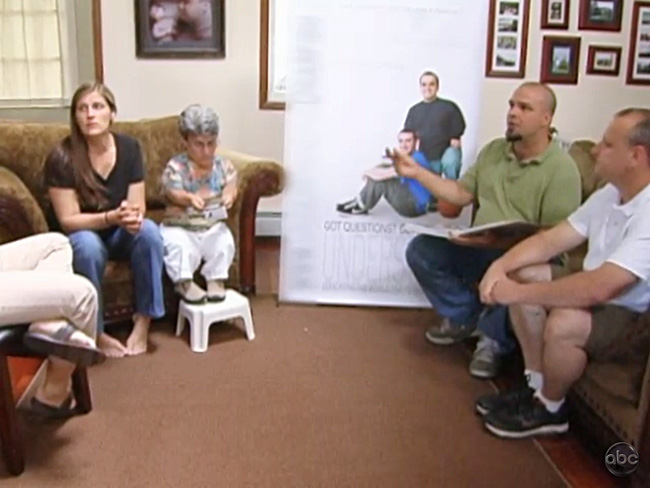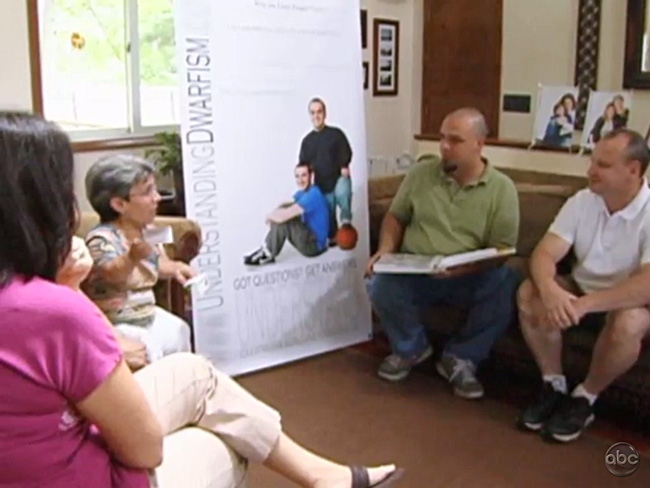 Here are some more photographs from the Understanding Dwarfism photo shoot. Hailey and her super-cute brother Hudson…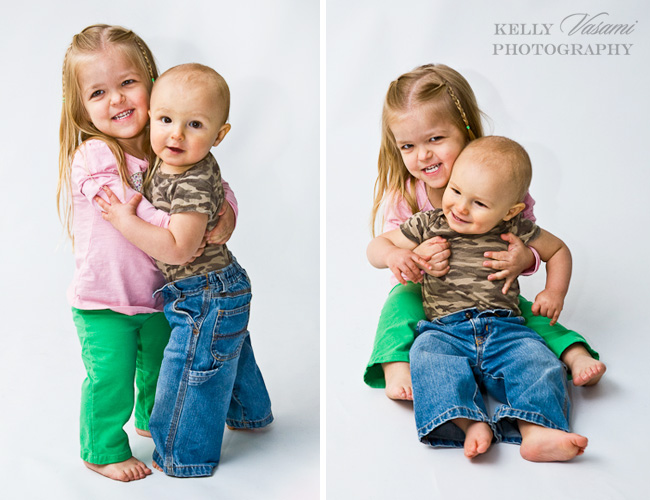 …and some of the other wonderful girls I met, who you may recognize from the Extreme Makeover Home Edition episode as well!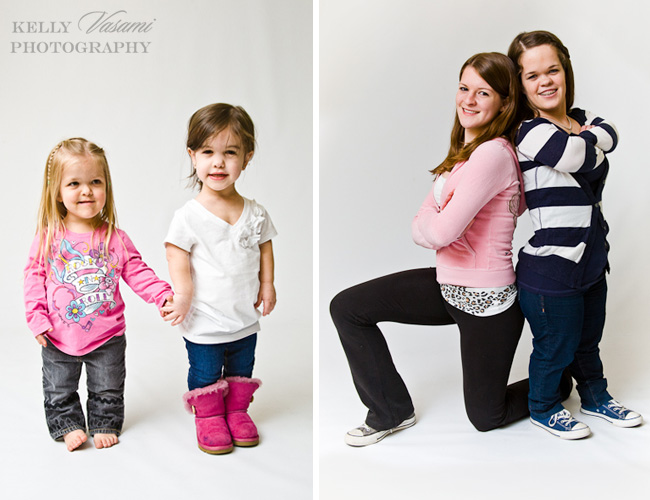 Toward the end of the episode, Extreme Makeover Home Edition took the Korpai family to Times Square before the "big reveal" to show them some billboards they put up to promote their website Understanding Dwarfism.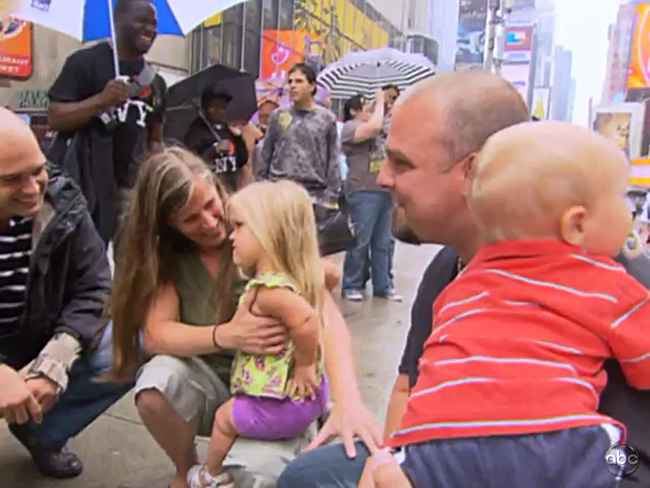 The Korpai family got to meet Bill and Jen from TLC's The Little Couple, and they all took a look at the billboard in Times Square together.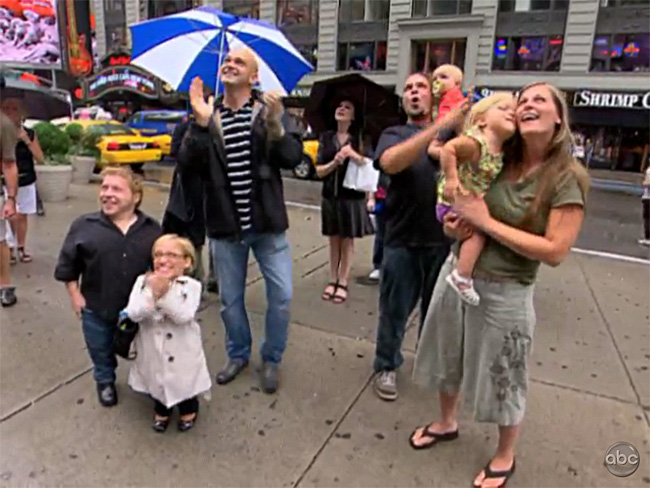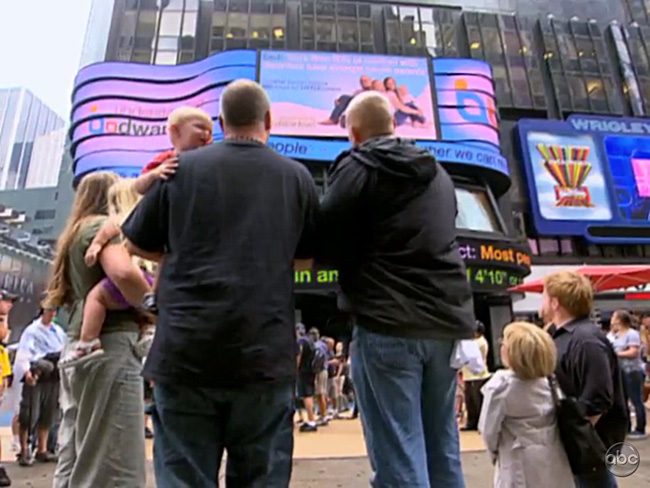 Below is a close-up of the billboard in Times Square, featuring one of the photographs I took of the Korpai family: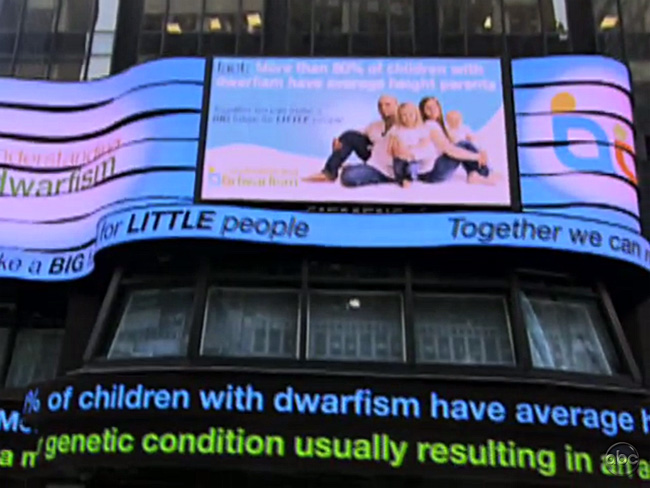 Another version of the Times Square billboard, again using one of my pictures promoting the Understanding Dwarfism website: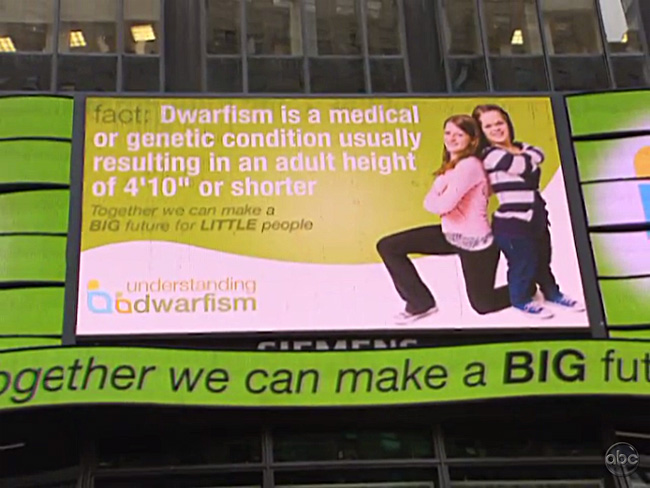 At the end of the episode, you hear those famous words: "Move That Bus!", and with that the Korpai family gets a look at their new home!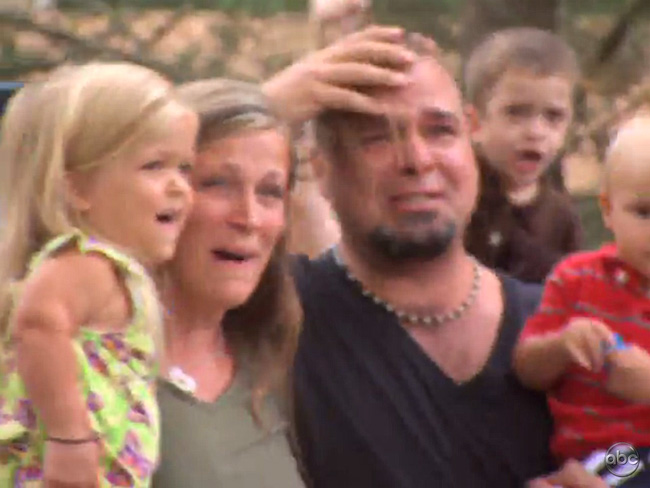 Extreme Makeover Home Edition created an absolutely beautiful new home for the Korpai family. This house is completely accessible for both Hailey and the rest of her family. The designers made the house functional for an average-sized person as well as for a little person.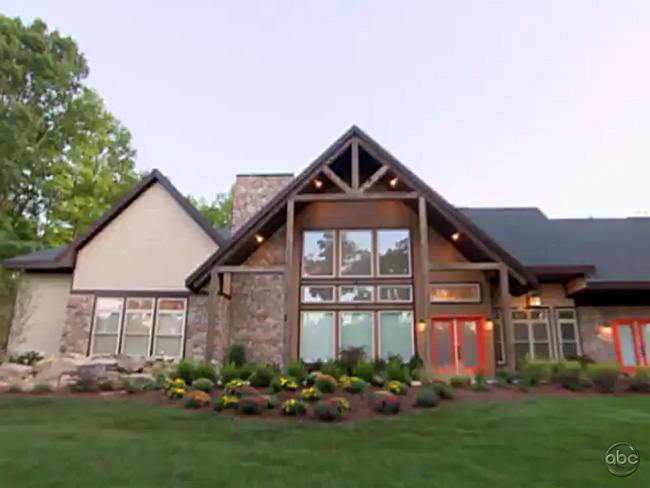 Members of the Little People of America Hudson Valley chapter were invited to be a part of the unveiling of the Korpai's new home. I recognize many of these smiling faces from meeting and photographing them in March. They were some of the nicest, friendliest people I have ever had the pleasure to work with!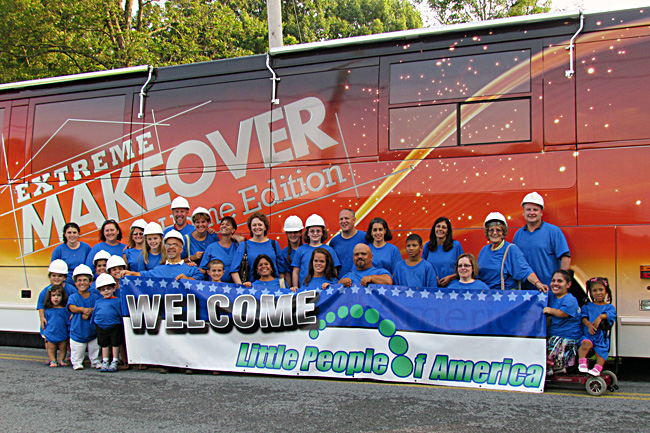 ABC.com's website showed another view of the Korpai's new home from the street. I love that the family used this opportunity to put up a banner promoting the Understanding Dwarfism website (and ok, I'm excited they used my pictures again too!).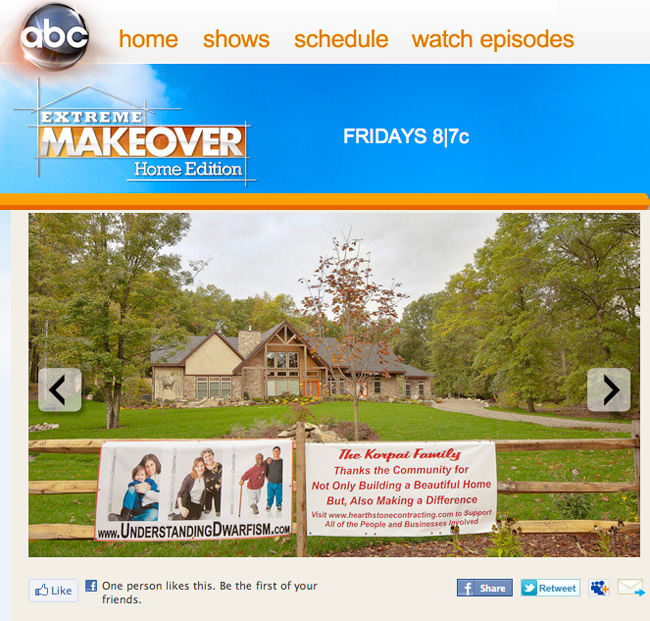 All of my best wishes go out to the Korpai family, and to all of the friends I made while attending the Little People of America's Understanding Dwarfism photoshoot. It was an absolute joy to be a part of. I am so excited that the LPA Hudson Valley chapter have a beautiful new space to meet in, as well as the new headquarters for Understanding Dwarfism. If you haven't already, please visit the website to learn more about the condition.