My home office is currently in a large bedroom of our home that also serves as a second living room and my son's playroom…which can be a challenge at times. Right now for example, as I am typing this, I have a toddler running around the room while watching marathon episodes of his favorite Doodlebops DVD. Having clients come upstairs in my home or having to compete with a toddler isn't ideal…
At some point, we realized the need for a separate work space for me. Ideally, this would be a space that could house my office, have plenty of storage, and also be a place where I could meet with clients… instead of having to meet in Starbucks all the time.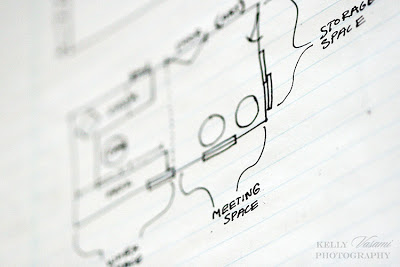 We have decided to convert the front room downstairs, below the space I'm currently in. This room was once a sunporch, then later a bedroom, but I think this is the first time it will be an office. (This house has been in my husband's family for five generations.) After many measurements, I have realized everything will, in fact, fit and I will soon have a space that can comfortably house all things Kelly Vasami Photography. …Sorry, no Doodlebops allowed.